Marae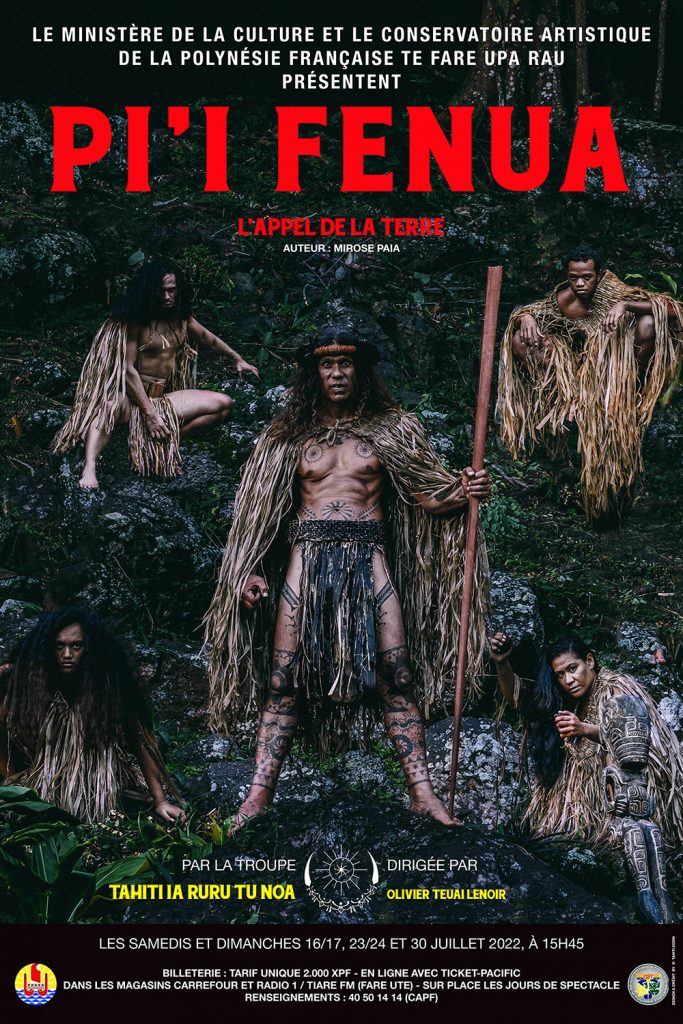 The Conservatoire Artistique de Polynésie française – Te Fare Upa Rau and the Ministry of Culture present: "Pi'ifenua, l'appel de la terre" (Pi'ifenua, the call of the earth) a show written by Mirose PAIA and performed by the Tahiti ia Rurutu Noa professional dance troupe, directed by Olivier Lenoir, who is also in charge of the artistic direction
The story – "Pi'ifenua" is based on "The Legend of Arahurahu Marae". Tematahia was the great chief of Ahototuaana, a powerful clan whose marae, Matamatahia, was carefully guarded by Hina-pō-tea nymphs. Under the watchful eye of this great despot chief, they bewitched and caught wandering souls in their magically powerful nets.
This story evokes Pi'ifenua, the call of the Earth, the return to the origins. This strong link between man and the Earth is universal. But it is even more remarkable, stronger in an island environment where people are surrounded by a vast ocean. Are we not deeply linked, body and soul, to the Earth, whether we like it or not? It is not only the land of our ancestors that becomes our land by inheritance. If only we could hear this call of the Earth, if only we could follow this inner force that pushes us to return to it, to reconcile ourselves with it; to appreciate its dignity and its benefits, to look at it differently, to maintain it, to fight to keep it, to protect it and to unite all of us together to pass it on to the future generation.
"Pi'ifenua, the call of the earth" with: the dancers of the Tahiti ia Rurutu Noa troupe, its pupu hīmene and its percussion orchestra, the actors and the royal court…
E tumu parau teie i patu-'āpī-hia 'ia au i te « 'ā'ai o te marae o Arahurahu » E ari'i 'o Tematahia tē ti'a ra i te tuha'a fenua rahi o Ahototuaana. E 'āti pūai teie, 'o Matamatahia te marae. E tīa'ihia te marae e nau Hina-pō-tea, i te pō 'e i te ao, tā te ari'i e fa'ahepo i te haru mai vārua ta'ata i tā rātou 'ūpe'a manamana. E 'aito nui 'o Temataaro nō te 'āti Tumufau e ora ra i te vao 'e i te mou'a mato teitei. I te hō'ē mahana, e uru ta'a'ē tei tupu ia Temataaro 'e 'ua tītāpou roa mai 'oia 'e tōna mau ta'ata i Ahototuaana. I mau ai rātou i te 'ūpe'a a nau Hina-pō-tea. 'A tahi, 'a piti tonora'a i te ti'ati'ave'a ē 'aita ihoā, tonohia maira 'o Tohuroa, te tahu'a nui. Fa'aara maira ia Tematahia i te parau huna. Inaha 'o te tua'ana 'o Temataaro, fānau-pō-hia, nō Tematahia. Pāto'i 'ū'ana maira 'o Tematahia i teie parau, te tama fānau tahi ho'i 'oia, 'o te ha'apohe mau 'oia ia Temataaro i ni'a i te marae. 'Aita i maoro, 'ua fāura mai tō te vao, e toa, e pi'imato. 'Ua pī, 'ua pā, 'ua vevo, 'ua ura te 'aro i rotopū i nā 'āti.
E ha'amana'o teie parau i te Pi'ifenua, te parau o te pi'i a fenua, te reo pi'i nō raro roa mai. E tā'amura'a rahi tō te ta'ata 'e te fenua, i roto i te hīro'a o terā 'e terā nūna'a nā te ao nei. E'ere 'a tahi nei tumu parau i ni'a i te fenua 'e tō tātou tā'amura'a iāna. Teie rā, e ta'a'ē iti faufa'a tōna i teie mau fenua 'āuahā'atihia e te moana 'ā'ano. E mea hōhonu atu ā ïa teie tā'amura'a o te fenua i te ta'ata mā'ohi, tōna tā'āto'a, te tino 'e tōna vārua, tei hi'ihia i te fenua. E fenua nō 'ō mai i te tupuna, vaiihohia mai e te mau metua, e'ere i te tao'a hōro'a-noa-hia mai. E mana rā tei roto iāna. 'Āhiri rā ho'i tātou e toro na i tō tātou vārua i te pi'i a te fenua, e ho'i fa'ahou ai tātou iāna ra, e rata fa'ahou ai iāna, e fa'ahiahia ai i tōna tura 'e i tōna mau maita'i, e hipahipa ai i tōna 'una'una, e 'atu'atu fa'ahou ai iāna, e 'aro
The Heiva continues in the gardens of the Museum
Initiated by the Minister of Culture, this event, organised by Te Fare Tauhiti Nui – Maison de la Culture in partnership with the Museum of Tahiti and her Islands, allows the 'ori tahiti' groups that did not win in the competition to perform again. The dance groups perform outdoors in the magical setting of the gardens of the Museum, in hura nui costume, with a half-hour performance each. At the end of each performance, the public is invited to take photos of the dancers and musicians, or to take a photo with the artists.
The winning costume of the Heiva i Tahiti is given to the Museum of Tahiti and her Islands – Te Fare Manaha during the Nu'uroa Fest since the creation of this event. It will join the museum's collection of costumes, which includes more than two hundred pieces. These costumes are regularly exhibited during temporary thematic exhibitions proposed by the Museum.
Nuuroa Fest
Nu'uroa Fest
Saturday 6 August
At the Museum of Tahiti and her Islands.
Free entrance
Catering on site
Information: +689 40 544 544 / www.heiva.org / Facebook : Heiva i Tahiti Officiel
Marae Arahurahu from 17 July to 1st August
Saturdays and Sundays at 3:45 PM
Adults: 2,000 XPF
Children (under 12): 2,000 XPF
Tickets for sale at Conservatoire Artistique de Polynésie française
For further information +689 40 50 14 14 / www.conservatoire.pf / www.heiva.org
Nu'uroa site, Tahiti and her Islands Museum on Saturday 7 August
All day
Single price: XPF 1,000 for the day
Tickets can only be purchased online at www.heiva.org and at the Maison de la Culture
Mondays to Thurdays from 8 AM to 5 PM – Fridays from 8 AM to 4 PM
For further information + 689 40 544 544 / www.heiva.org