Tū'aro māo'hi: traditional sports in the spotlight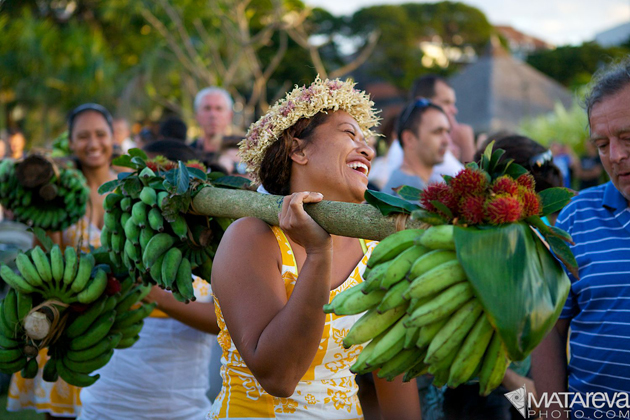 Traditional sports competitions hold a prominent place in the Polynesian world. Organized by the 'Āmuitahira'a Tū'aro Mā'ohi (FATM) since 2003, they now include more than 28 associations and more than 700 members spread over the five archipelagos of French Polynesia. Competitors from the Polynesian triangle are also expected depending on the evolution of the health situation.
Dexterity, strength, endurance, skill, many qualities are required to triumph in these impressive disciplines, which attract the widespread admiration of the large public following them. Coconut climbing, stone lifting, javelin throwing, coconut shelling, copra, fruit carrier races, and the Va'a Taie regattas embody the most authentic and spectacular Polynesian traditions.
Place xxxxx – Saturday 03 or Sunday 04 July: Canoe races
9:00 AM to 3:00 PM: Heiva va'a taie tautoru and motu
Paofai gardens – Papeete – Wednesday 14 July: Fruit carrier races
12 PM to 2 PM: weighing of the loads in Paofai gardens

3 PM: fruit-carriers race (Tu Hou, Vahine, Feia Api, Aito, Open 10kg)
4:30 PM: traditional show.
Vairai Park – Punaauia – Saturday 17 July: Various traditional sports
11 AM to 3:30 PM: traditional games workshop, show and traditional entertainments

9 AM to 11:30 AM: javelin throwing: patia fā
12 PM to 1 PM: ma'a Tahiti (traditional local meal, opening of the ahima'a) followed by a traditional show
1 PM to 4 PM: javelin throwing: patia ai; stone lifting: vahine, lightweight, middleweight, master, heavyweight; Coprah team täne, traditional wrestling (selections)
Vairai Park – Punaauia – Sunday 18 July: Various traditional sports
11 AM to 3 PM: traditional games workshop, show and traditional entertainments

10 AM to 12:00 PM: javelin throwing: vahine and u'i 'āpī; stilts "rore", shelling of 100 coconuts
12 PM to 1 PM: ma'a Tahiti (traditional local meal, opening of the ahima'a) followed by a traditional show
1 PM to 6 PM: Javelin throwing: iaora patia fa; stone lifting (heavyweight, super heavyweight, extra heavyweight), Coprah individual täne, Coconut tree climbing tauma ha'ari , traditional wrestling (finals)